Man linked with Derry dissident activity refused bail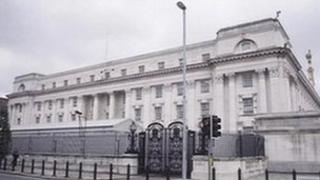 A man accused over a rifle seizure allegedly linked to dissident republicans in Londonderry must remain in custody, a judge ruled on Friday.
Anthony Taylor, 43, of Farmhill, Derry, was detained with another suspect in August.
The member of the pressure group Republican Network for Unity, faces a charge of having a .22 Remington rifle with intent to endanger life.
The evidence against him includes police helicopter camera footage.
Prosecutors alleged that he was in contact with a car where the gun was found inside a holdall in the boot.
Mr Taylor was arrested in the area, allegedly carrying wrapping which is suspected of being from the bag.
The court heard he claimed it had been thrown at him by another motorist following a dispute between them.
Opposing his release application, a prosecution barrister said: "Police believe the recovery of the firearm and the subsequent find of an explosive device are linked to ongoing dissident republican activity in the Derry area, and are concerned this applicant will re-engage in that activity."
But a defence lawyer disputed the strength of the case against Mr Taylor, stressing that he was not charged with membership of any illegal grouping.
'Wrong place, wrong time'
He said his client was connected to Republican Network for Unity, which seeks to achieve its aims by peaceful methods.
Mr Taylor's work with the organisation involved efforts to combat anti-social behaviour, the court heard.
"He knows nothing at all about this gun," the barrister said.
"He's been found in the wrong place at the wrong time on this occasion."
The barrister added that footage taken from a helicopter was shown to his client during interview.
"It's not possible on the basis of that quality of material to make an identification of any kind whatsoever," he claimed.
"There isn't any forensic evidence at all to link this applicant to the gun in the car or to the holdall in the car."
Mr Justice Hart, who heard the application, described the case against Mr Taylor as circumstantial.
Refusing bail, he added: "There is clearly a risk of further offending."