London mayor Boris Johnson drives Wrightbus vehicle in Ballymena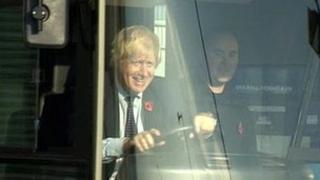 The Mayor of London, Boris Johnson, is in County Antrim to unveil the prototype bus that will replace the traditional London Routemaster.
The contract to build the new bus for London Transport was awarded to Ballymena company Wrightbus in January last year.
Twenty five engineers and a production team of 40 are employed on the project.
An initial order was placed for eight prototype buses, with the company hoping many more will follow.
A special feature of the bus is the reinstatement of the old-style hop on, hop-off platform.
"We've got this fantastic new bus which, amidst many other features, we've got the open platform back," Mr Johnson said.
"We're going to bring that back to the streets of London - it was wrongly taken away.
"This is a world-class piece of technology built here in Ballymena.
"It's the most amazing futuristic design, but it's also the cleanest, greenest bus that will ply the streets of London, indeed any city in the UK."
Mr Johnson launched the competition for a replacement for the old Routemaster three years ago.
On Friday he came to Ballymena to drive the first prototype of its replacement off the production line.
'Shiny bits of nostalgia'
London Labour group's transport spokeswoman Val Shawcross said employing a second crew member - or conductor - on the new Routemasters will cost £72,000 a year per bus.
She also claimed that to run the buses with an extra staff member on just 10% of the capital's 7,500-strong bus fleet, TfL would need to find an extra £54m a year.
"If Boris Johnson ever wants these buses to be anything more than expensive, shiny bits of nostalgia, Londoners will face even higher fares to pay for them," she said.
"The mayor has already wasted millions on this project and, because of his policies, routes are more congested and buses more overcrowded."
A Transport for London spokesman said: "We are still in the process of determining how the buses will be staffed.
"We don't recognise the figures quoted and it could be that we utilise existing resources for at least part of the duties."