Anglo Irish Bank to enforce Sean Quinn loan guarantees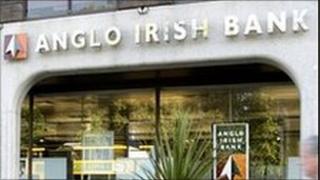 Anglo Irish Bank is reportedly planning to enforce 2bn euros in loan guarantees given by businessman Sean Quinn.
RTE's Prime Time said Anglo went to the High Court in Dublin on Wednesday and lodged documents detailing its decision to call in the guarantees.
It said the loans include one of 1.3bn euros, one of $820m and one of 200m yen all taken by Mr Quinn personally.
They are also calling in personal guarantees by Mr Quinn and his wife for a home improvement loan of 3.5m euros.
Personal guarantees were a feature of the Irish property boom and some Irish business people have been ordered to honour colossal guarantees.
Fermanagh businessman Mr Quinn, 64, was stripped of control of his manufacturing and insurance business empire in April and owes billions of pounds.
In April, he conceded that he had made mistakes sinking millions into Irish bank shares, but said such mistakes should not result in a life sentence.
Mr Quinn and his family are now engaged in a complicated legal battle with Anglo Irish Bank which is owed a total of 2.8bn euros (£2.4bn).
The bank claims the Quinns are attempting to move property assets into new firms which would cause it to lose security over significant sums of money.
The Quinns have denied the bank's allegations.
The legal proceedings have stretched from Ireland to Russia, Sweden and Cyprus.
RTE said the personal guarantees case is due to heard at the Commercial Court in Dublin about 10 days.