Former IFA chief Howard Wells gets £30,000 settlement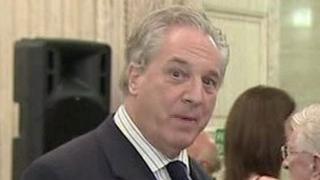 Former Irish FA chief executive Howard Wells is to receive £30,000 to resolve a legal action against the association and its ex-president Raymond Kennedy.
Mr Wells issued libel proceedings against both parties in connection with alleged press comments about his sacking in 2008.
An unfair dismissal case taken by him later cost the IFA £500,000 to settle.
Lawyers for Mr Wells have now disclosed they accepted a lodgement of £30,000 in damages to settle the defamation case.
He has also secured legal costs as part of the resolution.
Mr Kennedy himself resigned from his position at the head of Northern Irish football in October 2010.
He was named as a defendant in the High Court action along with the IFA.
The lodgement was made on behalf of all defendants in the action, including the publishers of the Belfast Telegraph.
Following confirmation of the settlement, Mr Wells' solicitor issued a statement setting out why a writ was issued.
Paul Tweed, senior partner in Johnsons Solicitors, said: "Mr Wells had already secured complete vindication from his former employers, the IFA.
"He was therefore extremely concerned that the former president of the IFA should have attempted to undermine him in relation to the performance of his duties while chief executive as reported in the offending article.
"My client had therefore been left with no alternative but to initiate these legal proceedings in order to repudiate what were totally unfounded defamatory inferences.
"He has been fully vindicated by way of the substantial payment of £30,000 in damages, together with his legal costs."