MTV European Music Awards are 'game changer' for Belfast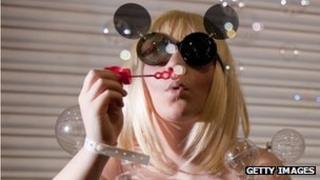 Belfast city centre manager Andrew Irvine has said the MTV European Music Awards will be a "game changer" for Northern Ireland's capital.
20,000 music fans are expected in Belfast for the awards this weekend which will attract a host of major stars.
Mr Irvine said the city was estimated to make £10m from the event.
He said there was a "palpable sense this will change a world view of Belfast".
"This will communicate to 500 million people worldwide what Belfast is really like - that's a game changer," he added.
"This is the starting pistol for 2012 and a massive year for the city with the Titanic centenary.
"Seize the chance, now is our moment."
Justin Bieber, Lady Gaga and Coldplay are among the artists set to perform at the awards ceremony in the Odyssey Complex on Sunday night.
Snow Patrol and Jason Derulo are set to take the stage at Belfast City Hall while Red Hot Chili Peppers will play the Ulster Hall.
Belfast Music Week also reaches its climax this weekend.
Leading English rock group Kasabian will headline a concert at the Ulster Hall on Saturday.
And Starsailor's James Walsh will be among a series of local artists performing over nine stages at The Limelight, Katy Daly's and the Spring and Airbrake in Ormeau Avenue on the same night.
Translink is putting on extra services for fans travelling within the city and those coming from outside it.
The police have said they have been involved in months of planning to ensure everyone enjoys the events in safety.
Translink said it would be operating Metro services in the city until 2300 GMT.
Linda Shannon of Translink said: "We're going to be offering a number of extra bus, coach and rail services to get into the city and also to travel home after the events.
"Similarly our rail services are operating to the likes of Bangor and Portadown, Carrick, Larne and Coleraine up to about 11.30pm and we have special coach services from other parts of Northern Ireland all coming into the city and getting people home after the event."
Resources
PSNI Superintendent Nigel Goddard said police had been liaising with the council and MTV over the event for months.
"The priority for my officers here who will be working over the weekend is to keep the public safe at this fantastic event and also to offer reassurance and help people get around the city who maybe haven't been here before," he added.
"People should come and have a great time and use the pubs and clubs and bars in the city but I'd ask them to drink responsibly because it'll really ruin their night if they end up in accident and emergency or something like that."
One contingency police have been preparing for is the possibility of bomb alerts to disrupt the awards.
Supt Goddard said he was confident police had the resources to deal with any attempts at disruption.
Gerry Lennon from Belfast Visitor Convention Bureau said it would be impossible to buy the type of publicity Belfast is getting from staging the awards.
"The message that goes out is that Belfast is a happening city, that Belfast is a music city and that changes the perception of Belfast," he said.
"Of course there's a spike in terms of accommodation booking - 4,000 rooms etc - but the legacy of that is the important thing for us. "
Meanwhile, MTV has announced it will return to Belfast next year for the Titanic centenary event.
A concert is to be held at the docks where the ship was built.