Ulster Bank writes off £1bn in loans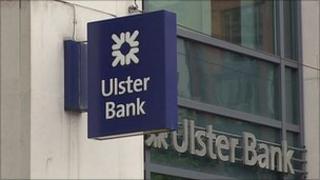 Ulster Bank has written off more than £1bn in loans in the first nine months of this year, figures have shown.
Ulster Bank, is part of the taxpayer-owned Royal Bank of Scotland Group, which has been affected by the property crash in Ireland, north and south.
£1,057m has been written off, compared to £785m in the same period last year.
The figures show it is still a major drag on the parent company as the division with the single biggest write-offs.
Badly affected
Underlying operating profit at Ulster dipped slightly over the nine months to £272m from £295m in the same period last year.
All major banks in Northern Ireland have been badly affected by the property crash.
Earlier this week Northern Bank revealed that it had written off £196m in the first nine months of 2011 - more than twice the £89.4m figure for last year.
Northern, which is owned by Danske Bank of Denmark, is less exposed to the property market in the Irish Republic, but the figures paint a gloomy picture of the Northern Ireland economy.
It reported an underlying profit before such write-offs of £39.6m, but revealed that while deposits were up 5%, loans were down 7%.
Deputy editor of The Sunday Business Post, Richard Curran, said the figures show "that impairment charges or loan losses that they (Ulster Bank) expect to take are actually increasing and that's a very, very worring sign for them".
He explained that early losses in 2009/10 related to commercial properties particularly in the Republic but that the problem appeared to be spreading into the residential mortgage loan book.
"Ulster Bank has a very long track record in the Irish banking scene, both in the north and south," he said.
"They have been a very successful bank where they really went awry."