Judgement reserved in parade protest court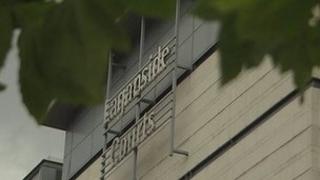 Judgment has been reserved in a case involving 28 people accused of a staging an illegal sit-down protest at a disputed Orange Order parade.
Deputy District Judge Neil Rafferty told lawyers he would notify them when he reached his verdict.
The demonstration was staged at a Twelfth of July march in 2010.
All of the defendants are charged with obstructing lawful activity in a public place. Some are also accused of resisting police.
The charges were defended with residents and campaigners claiming they were involved in a peaceful sit-down protest on the Crumlin Road, near Ardoyne, north Belfast, which did not breach a parades commission determination.
The case against a 29th accused, a woman from north Belfast, was dismissed on Tuesday due to a lack of evidence.
Two separate bodies operating in the area have been linked to protests against the parade: the Crumlin Ardoyne Residents' Association (CARA); and the Greater Ardoyne Residents' Coalition (GARC).
It is contended that the demonstration at the centre of the case was led by GARC.
'Peaceful protest'
During a hearing which lasted for four days at Belfast Magistrates' Court video footage was played in an attempt to identify defendants.
It showed those sitting on the road chanting "peaceful protest" at riot squad officers facing them.
Police witnesses also claimed they could pick out alleged participants, some of whom were from Londonderry, from photographs taken on the day.
Following closing submissions Mr Rafferty confirmed on Thursday that he would be reserving his decision on the case.