Cardinal Brady 'regrets' Vatican embassy closure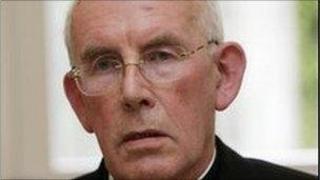 Ireland's most senior Catholic cleric has said he is "profoundly disappointed" at the Irish government's decision to close its embassy to the Vatican.
Cardinal Sean Brady said the decision showed "little regard for the important role played by the Holy See in international relations".
Foreign Affairs Minister Eamon Gilmore made the announcement on Thursday.
He said the closure was due to government cost cutting plans.
Mr Gilmore added that although the embassy to the Holy See was one of the Republic's oldest missions, it yielded no "economic return".
"The government believes that Ireland's interests with the Holy See can be sufficiently represented by a non-resident ambassador," he said.
"The government will be seeking the agreement of the Holy See to the appointment of a senior diplomat to this position."
The Papal Nuncio, the Holy See's representative in Ireland, was recalled to the Vatican in July this year to discuss the impact of the Cloyne Report into clerical abuse.
Mr Gilmore insisted the closure of the embassy to the Vatican was not a result of the fallout from the report.
Cardinal Brady said he hoped the decision would be re-visited.
"I look forward to a time when the government will again appoint a resident ambassador to the Holy See," he added.
The Irish embassy in Iran and a representative office in Timor Leste, will also close as part of the cost cutting plans.