Belfast gets ready for MTV awards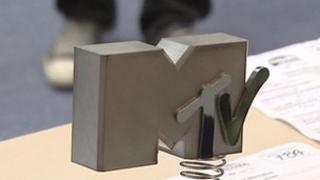 With 20,000 music fans expected in Belfast for the MTV awards this weekend preparations for getting them there and back safely are in place.
Gigs and events will be taking place in Belfast on Saturday and Sunday.
Translink is putting on extra services for fans travelling within the city and those coming from outside it.
Meanwhile, the police have said they have been involved in months of planning to ensure everyone enjoys the events in safety.
Linda Shannon of Translink said large numbers of people would be in the city and the company was "delighted to be a part of it".
"We're going to be offering a number of extra bus, coach and rail services to get into the city and also to travel home after the events," she said.
"We have special Metro services operating right up to 11pm.
"Similarly our rail services are operation to the likes of Bangor and Portadown, Carrick, Larne and Coleraine up to about 11.30pm and we have special coach services from other parts of Northern Ireland all coming into the city and getting people home after the event."
Safety first
PSNI Superintendent Nigel Goddard said police had been liaising with the council and MTV over the event for months.
"The priority for my officers here who will be working over the weekend is to keep the public safe at this fantastic event and also to offer reassurance and help people get around the city who maybe haven't been here before.
"People should come and have a great time and use the pubs and clubs and bars in the city but I'd ask them to drink responsibly because it'll really ruin their night if the end up in accident and emergency or something like that.
"I'd also ask people to think about how they're going to get home before you come out," he said.
One contingency police have been preparing for is the possibility of bomb alerts to disrupt the awards.
Supt Goddard said he was confident police had the resources to deal with any attempts at disruption.
Important legacy
Gerry Lennon from Belfast Visitor Convention Bureau said it would be impossible to buy the type of publicity Belfast is getting from staging the awards.
"The message that goes out is that Belfast is a happening city, that Belfast is a music city and that changes the perception of Belfast," he said.
"Of course there's a spike in terms of accommodation booking - 4,000 rooms etc - but the legacy of that is the important thing for us.
"We have experienced a 25% increase in enquiries to the welcome centre over the month of October and a quadrupling of traffic to our website interested in Belfast.
"We expect that this is the start of a huge increase in Belfast over the coming months."
Meanwhile, MTV has announced it will return to Belfast next year for the Titanic centenary event.
A concert is to be held at the docks where the ship was built.