Tyrone County renal unit donation used for art in Enniskillen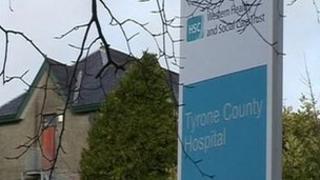 A health trust has been criticised after thousands of pounds donated for a renal unit in Omagh was used to buy art for a new hospital in Enniskillen.
The money was given to the renal unit of Tyrone County Hospital by patients.
However, the Western Health Trust spent £20,000 of it for "therapeutic art" for the new acute hospital in Enniskillen which opens next year.
Ulster Unionist MLA Ross Hussey said the money should be spent where it was donated to.
"It wasn't given for the trust to use in Altnagelvin or Enniskillen or anywhere else within their bounds of authority," Mr Hussey said.
"It was given for the renal unit in Omagh and by them taking that money and using it elsewhere it's totally against the principle of why the money was given."
The health body defended the move saying it would "enhance the environment" at the new Enniskillen hospital.
In a statement the trust said money from endowments and gifts was used to provide patient comforts as well as staff education and support.
"Donated patient funds are used to enhance patient services and environment," it said.
"Renal patients who become acutely ill are treated in the Erne Hospital and will continue to be treated in the new acute hospital for the South West.
"As a means of enhancing the environment for patients and visitors, as well as creating appropriate settings to alleviate stress and contribute to the healing process, an allocation of £20,000 from the renal fund is being employed, leaving a balance in the fund of approximately £200,000.
"There is a clear body of evidence from the UK, Europe and the USA which supports the positive impact of artworks on the patient experience and the contribution to the therapeutic process and stimulation of senses."