UVF gun is found in Belfast attic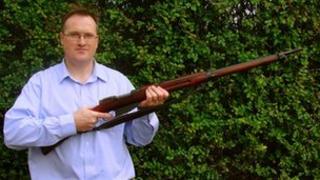 An historic rifle thought to have been smuggled into Larne for the UVF nearly 100 years ago has been found in an east Belfast attic.
The County Antrim port was the scene of gun-running in 1914 when loyalists imported guns and ammunition from Germany to prepare to resist Home Rule for Ireland.
Ernest White found the Mannlicher rifle, along with a small pistol and some ammunition, while he was insulating his loft.
He initially thought the package contained a fishing rod, but was pleasantly surprised to find it was a little more interesting.
"It is really exciting, I have a keen interest in archaeology and history, so when I found it I was like a child with a new toy at Christmas," he said.
"It was immaculate and the way it was wrapped was as if it had been put up there yesterday.
"I found the gun in May, but I have only just got it back because of the possibility of live rounds.
"I brought it to the police and they had to raise a court order.
"The police gave it back to me last Friday and it has been classified as obsolete calibre."
Mr White said he was now keen to trace the original owner of the gun which sports the UVF red hand insignia.
"This person was not just a member of the UVF, he would have been a senior member as they had the pistol as well," he added.
German mother
"I plan to look for this person's signature on the Ulster Covenant.
"From an old street directory I have been able to see who lived in the house when the attic was built."
Mr White said his own mother was born in Germany and that she had served in that country's army during World War II.
She met his father, who served with the Royal Air Force during that conflict, in Bonn in 1945, just after the war had ended.
Mr White said he would like to see the weapon in the Ulster Museum in Belfast in the near future, but failing that he would try to sell it to a private collector.
"I need to get a firearms certificate and the ammunition back," he said.
"I would love to see it in the Ulster Museum, but they may have plenty of these, I don't know.
"I saw a similar gun to this recently which went for £1,250, so it could fetch £2,000.
"But before I would sell it, I would like to shoot it once or twice at a gun club."