Liam Adams appears in court to face abuse charges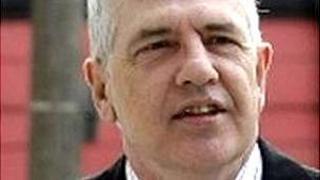 The brother of Sinn Fein president Gerry Adams has appeared in court after being extradited to Northern Ireland.
Liam Adams was handed over by gardai (Irish police) to PSNI officers on Wednesday evening.
The 56-year-old was then arrested on 18 warrants, including charges of rape, gross indecency and indecent assault.
They relate to the alleged abuse of his daughter Aine Tyrell. He was remanded in custody at a hearing in Belfast on Thursday.
Bail was refused on the grounds that he was "a real flight risk".
This was despite his solicitor telling the court that Mr Adams had "nowehere to run to".
Mr Adams denies abusing Ms Tyrell, who has waived her right to anonymity.
The allegations were first reported when Ms Tyrell took part in a television documentary in 2009.
Mr Adams handed himself in to police in Dublin last year after a European arrest warrant was issued by the PSNI.
Last month he was refused permission to appeal his extradition from the Republic, where he had been living.
Mr Adams is to appear in court again in a week's time.