NI Water boss Trevor Haslett to step down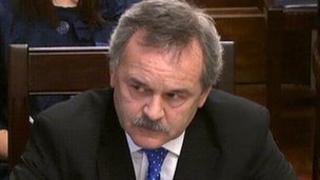 The acting boss of Northern Ireland Water is poised to resign, the company has confirmed.
Trevor Haslett had been in the post for less than a year after the resignation of the previous boss in the midst of the Christmas water chaos.
Lawrence MacKenzie stood down amidst damning criticism of the company's handling of the water shortages during the big freeze last winter.
It is thought Mr Haslett has said he wants to return to private consultancy.
His imminent departure is understood to have taken company executives and directors by surprise with emergency meetings taking place on Wednesday.
In a statement, the company said: "NI Water Chair Sean Hogan has confirmed that interim chief executive Trevor Haslett has indicated his intention to offer his resignation to the board."
Mr Haslett was formerly head of engineering with NI Water and previously worked as a director of a private civil engineering company.
He is the third chief executive to resign from the post.
As well as Mr MacKenzie in January, after what First Minister Peter Robinson described as the company's "shambolic" response to the big freeze, in 2008 Katherine Bryan resigned following controversy over a funding shortfall.
The Regional Development Minister, Danny Kennedy, has thanked Mr Haslett for his service.
"I'm sorry to hear of this news, and wish to thank Trevor for the role that he has played. I will be consulting NI Water on this matter," he said.
NI Water was created as a state-owned company in 2004 with Ms Bryan at the helm and its structure suggested that it would ultimately be privatised.
But the devolved government took a different view and the company has since been reformed as a non-departmental public body which means it falls under the control of the Department of Regional Development.
Previous boss Mr MacKenzie drew criticism for his level of pay, at £250,000. It is understood that Mr Haslett receives much less than that, closer to £130,000.
This disparity may make it more attractive for Mr Haslett to work in private consulting.
The pay cap - along with the perception of political interference - may also make it harder for Northern Ireland Water to recruit a new chief executive from outside the company.
NI Water denied that Mr Haslett had resigned, but said discussions with him on his future were ongoing.
During the Christmas water crisis 450,000 people were left without mains supply.
It cost the company £7.5m and at the height of the crisis, a million people phoned the NI Water helpline.