Donkeys abandoned in Ballyclare taken in by sanctuary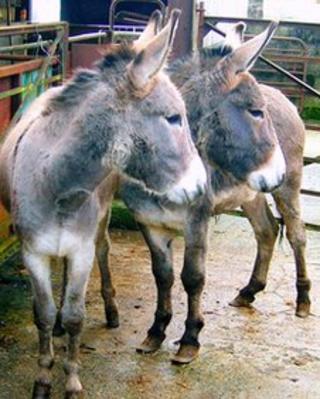 Two abandoned donkeys have been rescued from a derelict farm near Ballyclare.
The stallions, believed to be around two years old, are now in the care of the Donkey Sanctuary in County Tyrone.
Both donkeys were very nervous of being handled and one of them was suffering from sarcoid, a type of skin tumour.
They have been named Brian and Sean, after a supporter of the sanctuary who recently died, and a police officer involved in their rescue.
The owner of the donkeys is unknown. They were reported to police in mid-October when the owner of the yard they were abandoned in noticed them.
Now, they are recovering with the help of the Donkey Sanctuary.
"Both were thankfully in a reasonable body condition which indicates that although abandoned, they had at least had access to adequate food and water," said Allen Andrews, the sanctuary's regional welfare officer.
"This may not have been the case over the coming harsh winter months, so they are lucky to have been spotted sooner rather than later.
"We have no information about their background, or how long they may have been abandoned, but they are now guaranteed a warm and safe future in the care of the Donkey Sanctuary."
Mr Andrews also explained the donkey's new names.
"The paler coloured donkey has been named Sean after the police constable involved in his rescue, whilst the chocolate brown stallion has been named Brian after a valued supporter of the Donkey Sanctuary.
"When Brian Bevens sadly passed away earlier this year, his friends at the residential home where he spent his later years asked if a rescued donkey could be named in his memory, and we have gladly done so.
"Sean and Brian are now being cared for by staff at our County Tyrone holding base, where we are pleased to see them settling well into their new lives and becoming more and more trusting of people."