Champagne, kebabs and bespoke pillows - Belfast prepares for the MTV awards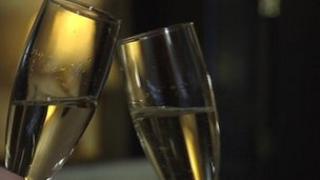 Twenty thousand music fans are expected in Belfast for the MTV awards this weekend.
MTV says Belfast is the smallest city ever to hold the awards - but calls the event on Sunday night its most ambitious yet, with three separate venues involved.
A-list celebrities and some of the top media executives in the US will be here, so just how prepared is Belfast?
Yes, some of the top celebrities in the world are coming. Yes, many of them have been here before - but never all at once. The stages are almost set.
City Hall is a flurry of activity as the massive set for Sunday's Snow Patrol gig goes up. At the Odyssey they're out with power hoses making sure the building is gleaming and at the Ulster Hall the red carpet is getting the once over. So can Belfast do it?
Gerry Copeland, the events manager at the city council certainly thinks so: "Yes, of course we can do it, because we've done other major events.
"No less than the Clinton visit, something like 60,000 people were in front of City Hall, and just back in 2009 we had the Tall Ships. In one day alone we had 250,000 people in the city. We've got the capacity, we've got the skills, so we can deliver."
The VIPs are expected to arrive in Belfast late on Friday and early on Saturday. Both the International and City airports are decked out with MTV advertising and the excitement among staff is at fever pitch.
Judith Davis is from George Best Belfast City Airport: "A lot of people are arriving from all over the world for the event. The terminal will be busy, but that's great and we're ready.
"We've got our celebrities, most of them will be arriving by private jet and helicopter. We won't know the full details until 48 hours before they're due in, but all the staff are going to be keeping an eye out for their favourite celeb."
Five star power
MTV said that Belfast's hotels played a large part in their decision to bring the awards here and at one of the city's plushest, they're ready. They've painted the railings, polished the door knobs, ordered in 500 extra bottles of bubbly and fresh Italian truffles.
They even have a ''bespoke pillow boutique'' from which the celebs can choose what to rest their weary heads on. So just what else do superstars need?
Adrian McLaughlin, the manager of the Merchant Hotel, said they've had some strange demands in the past: "Everything from a specific type of drink, maybe some off-the-wall products that we have to get in from America.
"Some of them like the air conditioning to be at a certain temperature on arrival, others like the humidity to be regulated, so we've had to bring in dehumidifiers and things like that for bedrooms, but as we say in the hotel, we can do anything for anyone so long as its legal."
Of course the hotels know which celebs they're accommodating, but they couldn't possibly tell us. However, Belfast is buzzing with excitement and speculation about who might appear and where.
Cabbie Jeff Weatherup is no stranger to the stars: "I picked up Darren Clarke recently, he'd been at some golf do and I took him for a kebab.
"The city is bouncing at the moment. All the talk about these VIPs coming, you never know, I might get Lady Gaga in the back, and if she wanted to go for a kebab I'd take her for one, but I'd have to tell her she can't sing."
There are some of us who still have our feet on the ground though, like local actress and singer Bronagh Gallagher: "Listen here, we're not living in the dark ages you know. There's incredible young moguls in this industry here, who do it because they love the music and there's huge talent.
"So if these people want to come, yes they're welcome, we're well ready for them."