Mark McGovern makes 18-day trek home to Belcoo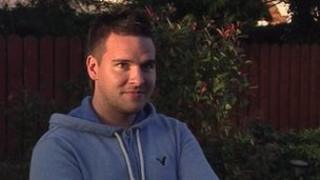 The Fermanagh Gaelic footballer left brain damaged after being attacked on the pitch in San Francisco has returned home.
It took Mark McGovern 18 days to travel home by land and sea because he is not allowed to fly.
He arrived home to Belcoo late on Monday night.
The 23-year-old was left in a coma after an off-the-ball incident during a match in the US in June.
The Fermanagh man had only been in the city five days when he was injured in the game between the Ulster Club and the San Francisco Celts
His family were told he might not live because his injuries were so severe.
However, Mark has made an incredible recovery with the help of doctors and physiotherapists in San Francisco.
The first leg of his 5,000 mile journey was from the west coast to New York by train, then a 10-day boat journey to Southampton.
Next, a long drive to Holyhead and another boat to Dublin and up to Belcoo and home.
Getting home again after so long was a great relief to Mark.
"It's amazing to get through the front gates of the house, to get to the front door and not be assisted by anyone," he said.
"There's no place like home.
"It'll be hard to get my normal life back, obviously, very hard. The only goal I've set is to become a single handicapper playing golf.
"That's my first thought. I know I can't play football anymore so it's given me time to concentrate on golf. It'll be golf every day now - weather depending!"