Mark Pollock faces his biggest challenge yet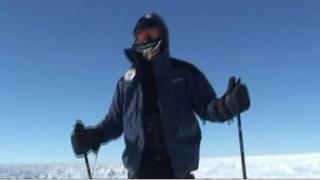 Mark Pollock's track record of overcoming adversity has inspired people all over the world.
After losing his sight aged just 22, he won two Commonwealth Games rowing medals, ran marathons in the Gobi Desert, and became the first blind person to trek to the South Pole.
But last year - 14 years after going blind - he suddenly found himself facing his biggest challenge.
He fell out of a second storey window while sleepwalking, suffering life-threatening injuries.
"I nearly died in the first few hours, and was unsure whether I was going to die in the first few days," Mark said.
"For the first month I couldn't move - I was lying flat on my back."
He spent 15 months in hospital and was discharged several weeks ago.
He is paralysed from the waist down - and he has been told it is likely he will spend the rest of his life in the wheelchair.
But not for the first time - he is challenging the conventional wisdom.
Back in his home town of Holywood, Mark explained how he's tackling his new disability. He is having some aggressive physical therapy at a centre in California.
"The idea is that if you train the paralysed parts of your body, there's a chance you may be able to re-route the nervous system to connect the brain and the paralysed limbs," Mark explained.
When he's at home, Mark has to do three hours of exercises a day. It is more mentally gruelling than physically demanding.
"The result is at the end of the day I'm exhausted. I'm trying to link in a memory, or an understanding of how my legs are moving with my brain."
"New South Pole"
The aim is to walk again.
"I'm not saying every paralysed person should even consider having that goal and I'm not saying that what they're doing is wrong.
"But I absolutely hate being in a wheelchair.
"I may never walk again, but I at least have a chance to try to influence the future."
Mark's friends have set up a charity to help him pay for the therapy in the US.
People all over Ireland are generating funds for him. Fun runners are even raising money in Holland and Australia.
"There are not thousands of PhDs out there at the moment to prove the therapy will work or won't work," Mark said.
"I suppose I am taking a bit of a punt on something that makes sense to me - I've got to make a go of it."
He describes the aim of walking again as his "new South Pole".
"It's going to be a very long road, and much harder than any adventure race I ever did," he added.