Crossgar couple 'traumatised' after kidnapping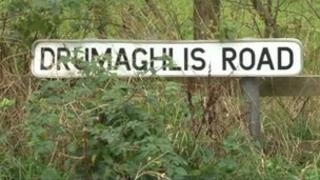 A couple has been left traumatised after they were kidnapped by a gang from their home on Monday.
Armed and masked men entered the house on the Drumaghlis Road in Crossgar between 19:30 GMT and 20:30 GMT.
The pair were held overnight and the man was later ordered to go to his workplace, a cash delivery company, and to remove a sum of cash.
No money was exchanged. The woman, who freed herself after being taken to another location, raised the alarm.
In the early hours of Tuesday morning, the man was driven in his car by members of the gang to the Mayfield area of Glengormley where they arrived at approximately 04:20 GMT.
The man was then told to drive his own car to the cash delivery depot and to take the money to Boucher Place in Belfast.
At 07:30 GMT on Tuesday, the man went to Boucher Place where he was met by another member of the gang driving a silver Honda Civic car.
But before the money, was handed over, the Honda Civic drove off.
At 09:00 BST, the man's wife freed herself from a house under renovation at Myrtlefield Park in south Belfast.
Police have appealed to anyone with information to come forward, especially those who may have noticed a black Mini One vehicle, registration number RE08 RYO, in Crossgar, Belfast or Glengormley on Monday night or Tuesday morning.
Police have also appealed to anyone who has any information about a silver Honda Civic car in Boucher Place.