Clergymen worry benefit cuts will hit poor hardest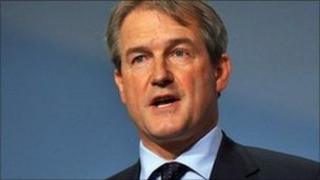 Widespread cuts to benefits will push Northern Ireland's most vulnerable into "precarious levels of poverty", according to the leaders of the four main churches.
It has emerged they used a meeting with the Secretary of State to protest at the impact of the Welfare Reform Bill.
The bill is currently going through parliament.
Westminster is making huge savings in social security by overhauling benefits life Disability Living Allowance.
The four church leaders have issued a statement to the BBC Northern Ireland's Spotlight programme, claiming "we need investment for growth not more people in poverty with even less money to spend".
The clergymen are: Cardinal Sean Brady, the Presbyterian Moderator Ivan Patterson, Archbishop Alan Harper, the Church of Ireland leader, and Methodist President Ian Henderson.
They met Owen Paterson last month and are understood to be seeking further talks over the issue.
Up to £500m could be sliced off Northern Ireland's £4.8bn welfare bill.
Economist Esmond Birnie told Spotlight: "That could be quite a challenge to the Northern Ireland economy in terms of reduction of spending power."
But it is the impact on Northern Ireland's most vulnerable people which worried the church leaders.
Their statement read: "We are deeply concerned the Welfare Bill will push more children, families, older people and those with genuine health care needs into precarious levels of poverty."
Social Minister Nelson McCausland, the minister who is responsible for social security, said he was "conscious of people's concerns" but added it was important Northern Ireland used the opportunity to reduce the number of people on benefits.
Spotlight's programme on the impact of welfare reforms is at 22.35 GMT on BBC One.