Twelfth parade protest accused has charges dropped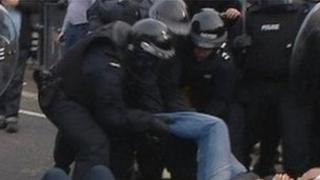 A woman being prosecuted over a sit-down protest at a disputed Orange Order parade in north Belfast has had the charges against her dismissed.
Jacqueline McAfee could not be identified on footage of the scene.
The 51-year-old, of Kansas Avenue Flats, Belfast, faced charges of obstructing lawful activity in a public place and resisting police.
She was among 29 people facing prosecution over a protest at a 12 July march at Ardoyne in 2010.
Ms McAfee's barrister, Sean O'Hare, applied to have the case dismissed on the basis that her identification could not be proven.
Some other defendants were not in attendance for the proceedings at Belfast Magistrates' Court, while a teenage suspect is to be tried by a youth court instead.
The charges are being defended with residents and campaigners claiming they were involved in a peaceful sit-down protest which did not breach a parades commission determination.
Two separate bodies operating in the area have been linked to protests against the march: the Crumlin Ardoyne Residents' Association (CARA); and the Greater Ardoyne Residents' Coalition (GARC).
It is contended that the demonstration at the centre of the case was led by GARC.
Photographs
Video footage of the sit-down was played in court, with those involved heard to chant "peaceful protest" at PSNI riot squad officers facing them.
Police witnesses also began a process of attempting to identify alleged participants from photographs.
Two of the first to be named were Derry men Ciaran Boyle, 26, of Kular Court, Little James Street, and Francis Quigley, 28, of Elmwood Road in the city.
Both face a single charge of obstructing lawful activity in a public place.
When officers named each of them as being from Londonderry defendants and supporters in the public gallery shouted out "Derry".
A barrister for Boyle asked for confirmation from one constable that he did not know his client from any arrests.
The officer replied: "I have had occasion to speak to him during patrols, but not to arrest."
Counsel for Quigley, John O'Conner, questioned whether a better quality photograph had been requested, claiming it was dark and showed a lowered head.
But the constable told him: "I don't believe I needed to. I was quite happy with this person I know as Mr Quigley."
The hearing, which is expected to last for five days, continues.