My wife is being blackmailed BNP man tells tribunal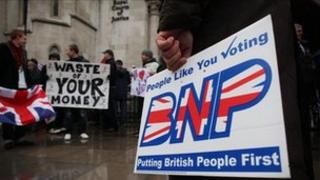 The daughter of British National Party chairman Nick Griffin fears coming to Northern Ireland because she is being blackmailed, a tribunal has heard.
Jennifer Matthys was to have been a witness in an unfair dismissal case being taken by a former BNP employee.
Marion Thomas is claiming unfair dismissal from her job at the party's fundraising centre in Dundonald.
The blackmail claim was made by Jennifer Matthys' husband and Nick Griffin's son-in-law Angus Matthys.
He is an elected BNP councillor in England.
He told the tribunal sitting in Belfast on Tuesday that there had been an attempt to run him and his wife off the road when they were driving in Cumbria last March. He claimed that people from Northern Ireland had been involved.
He and his wife used to work at the BNP fundraising centre in Dundonald.
Mrs Thomas claims she was dismissed after complaining about Mr Mathys for making a mistake which cost the party hundreds of pounds.
On Monday, Mrs Thomas told the tribunal she had subsequently been held against her will by party officials in a van in Comber - a claim which the party denies.
The tribunal continues on Wednesday.