Catholic priest urges 'sackcloth and ashes' for Irish Eucharistic Congress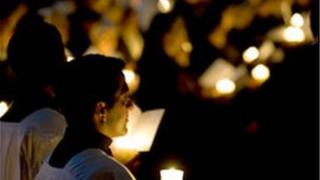 Irish Catholic bishops and priests taking part in the eucharistic congress next June should wear a modern take on sackcloth and ashes, a priest has said.
Fr Tony Flannery said the final Mass in Dublin was a "crucial factor" for a Church haunted by abuse scandals.
"Bishops and cardinals wearing mitres, surrounded by hundreds of vested priests will give out the wrong message," he said.
Fr Flannery said the Mass should be simple and humble, asking forgiveness.
"It should be penitential in character. Rather than ceremonial dress, we ask for some modern, imaginative equivalent of the 'sackcloth and ashes' of the Old Testament," Fr Flannery of the Association of Catholic Priests (ACP) wrote in an article on the association's website.
"The celebration would be simple and humble, asking forgiveness not just for the abuse of children, but for the other abuses of power perpetrated by Church people in the past."
Fr Flannery said the congress was a "real opportunity" for the Irish Catholic Church.
He said that one of the ACP's priorities for the year ahead was to consistently raise problems around ministry in the Church.
'Rigidity'
"With the rapid decline in the number of priests, these communities are going to be deprived of the Bread of Life, and of the nourishment that it provides.
"This is due to the rigidity of Church authorities who decide that only celibate males are allowed to preside at the Eucharist. We believe that this is wrong, and contrary to the mind of Jesus.
"We regard the clustering of parishes, currently favoured by most dioceses, as an inadequate response to the problems, since it will entail priests moving rapidly from one church to another each weekend, without really belonging anywhere."
Fr Flannery said this would be "unsatisfactory, perhaps to the point of soullessness, because the person who presides at the Eucharist is meant to come from the community, not someone who whizzes in to 'say Mass'".