Northern Ireland air passenger duty cuts in place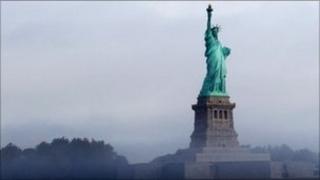 Air passenger duty (APD) for direct long-haul routes from Northern Ireland airports has now been cut.
Rates have fallen to £12 per passenger in economy and £24 for business and first class passengers as of Tuesday.
The move guarantees the continued operation of the Continental Flight from Belfast International to New York/Newark which was under competition from Dublin.
The NI Consumer Council said it was "a step in the right direction".
But the director of policy and education, Aodhan O'Donnell, said all flights to and from Northern Ireland should be reduced to mirror the Republic of Ireland's Air Travel Tax which is 3 euros to any destination.
"We are concerned that even with the reduction in APD, passengers departing from NI will still pay four times more in tax than passengers departing from the Republic, both for short haul and long haul flights," Mr O'Donnell said.
The cost of the tax could have killed off the daily service between Belfast and New York.
The old rates added £60 to an economy fare and £120 to a business ticket.
Continental said it had been absorbing the cost in Belfast in order to avoid passengers simply opting for Dublin.
This, the company told MPs recently, would cost them £3.2m this year and meant the route was no longer viable.