Fire crews are attacked but number of incidents decrease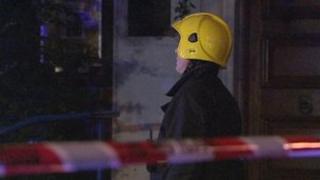 The Northern Ireland Fire and Rescue Service has said three of its crews were attacked as it responded to 197 emergency calls at Halloween.
No officers were injured in the incidents, but one fire engine was slightly damaged.
In total, the Fire Service attended 145 incidents, mostly burning rubbish and bonfires.
That is the lowest figure on record for a Halloween night.
Fire crews responding to an emergency call in Kilkeel, County Down, on Monday came under attack by youths throwing stones. No one was injured in the incident.
In Downpatrick, a female ambulance crew member was assaulted as she tried to help a woman who had suffered burns after falling into a bonfire.
John McPoland from the Northern Ireland Ambulance Service said it had been "extremely busy" on Halloween night.
He said ambulance crews had dealt with 279 calls between 20:00 GMT on Monday and 06:00 GMT on Tuesday morning.
"In a 10 hour period last night we attended 279 incidents which is nearly double the amount of calls we would expect to be attending," he said.
"It was much busier than a normal Monday night, but we put on extra crews and resources to cope with the influx of calls."
Mr McPoland said he was working to establish how serious the incident in Downpatrick was.