Police want teenagers for under-age alcohol sale tests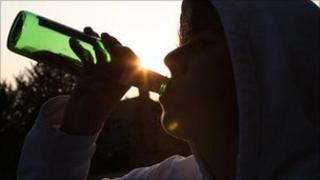 Police want teenage volunteers to help them catch traders who sell alcohol to those who are under age.
Young people aged 15 to 17 could get a GCSE-type qualification for volunteering, they said.
Teenagers will be used to go into off-licences and bars to see if they can buy drink. Police claimed it was not about "trapping" those selling alcohol illegally.
But some youth groups have concerns about the scheme.
"I have real worries about using children in this way," said Koulla Yiasouma of Include Youth.
"I also need to know how children are protected. We are asking children to go into these situations - it is not entrapment but it is about testing out a piece of legislation.
"Are we asking them to give evidence, are we protecting their identity, are we doing this in communities outside their own? We know the bullying that goes on for anyone being accused of being a 'tout'."
'Protection'
Under the 'Test Purchase of Alcohol Powers' across Northern Ireland, police have the right to "test purchase" at licensed premises which might be selling to those aged under 18 years.
PSNI Chief Superintendent Peter Farrar said this was about protecting young people.
He said young people could become victims of crime, receive serious injuries from excessive drinking or could become involved in committing offences fuelled from consuming alcohol.
"I think there are a lot of young people who want to do something about protecting their colleagues and peers in society. It is a great opportunity that will give something back," he said.
"The test purchase of alcohol powers will greatly assist in the prevention of the illegal sale of alcohol to children, protecting them and our communities from harm," he said.
"The test purchase of alcohol scheme is not designed to entrap licensees or their staff into making an underage sale of alcohol, nor is it intended to catch them off-guard.
"Rather, test purchase exercises are an opportunity for licensees and their staff to fully embrace their responsibilities and ensure that under 18-year-old persons are not illegally sold or supplied with alcohol."
The chief superintendent said police had worked hard to ensure the scheme was legal and that the young volunteers were well protected.
"Their welfare is paramount," he said.
He added that the qualification awarded for volunteering would be for community service.
Colin Neill, the chief executive of Pubs of Ulster, said responsible retailers had nothing to fear from the scheme.
"Pubs of Ulster fully support the use of test purchasing powers, we have worked very closely with PSNI to ensure the policies and procedures within this area are sufficiently robust and fair for the trade," he said.
"This includes a requirement for the police to provide advance warning regarding test purchase of alcohol operations that will be taking place in each area over a general period."