Martin McGuinness returns as deputy first minister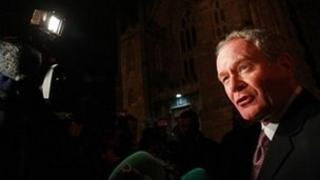 Sinn Fein's Martin McGuinness has formally returned to the position of deputy first minister.
Mr McGuinness had temporarily stood down from the role while he ran for the presidency of the Republic of Ireland.
For the last six weeks his party colleague John O'Dowd has been acting deputy first minister but he has written a letter to the speaker formally stepping down from the role.
Mr McGuinness came third in the election on first preference votes.
Michael D Higgins was officially confirmed as the ninth Irish President on Saturday.
The poet and campaigner received 701,101 first-preference votes - almost 40% of the total.
Mr McGuinness got 243,030 first preference votes, with the one-time sure favourite Sean Gallagher getting 504,964 in second.
The Sinn Fein MLA said he was "over the moon" with the support he got from the Irish electorate.