GAA referee attacked after semi-final clash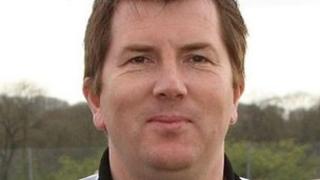 A GAA referee has been taken to hospital after being attacked at the end of a gaelic football match on Saturday.
Ray Matthews was taken to hospital after being confronted by supporters at the end of an Antrim Under-21 championship semi-final game in Ballymena.
It is understood that a linesman - Owen Elliot - was also injured.
Antrim GAA officials are investigating the incident.
It is believed both men were attacked as they made their way back to the changing rooms following the game between Lamh Dhearg of Belfast and St Mary's Rasharkin.
Mr Matthews was taken to casualty for assessment but was later discharged.
He alleges he was seriously assaulted at the game from a crowd which included both players and spectators.
He has said he will not make any further comment on what happened, but he has made a statement to police.
In a statement, St Mary's Rasharkin said it was "treating the incident at Slemish Park at the weekend very seriously and are currently carrying out our own investigation into the matter".
The Antrim County Board are meeting on Monday night to discuss the incident and have promised a swift and decisive investigation.