15 witnesses to Christopher McGaughey knife killing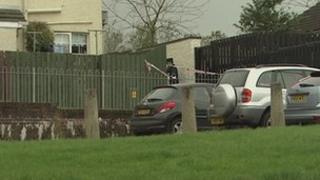 Up to 15 witnesses have come forward following the murder of a man in Londonderry, according to police.
Christopher McGaughey, 56, was stabbed to death at Hollymount Park in the Gobnascale area of the city at about 01:00 GMT on Sunday.
A woman also suffered minor injuries in the attack.
Police have been given an extra 36 hours to question a 31-year-old man, who was arrested on Sunday.
Detectives have already taken statements from 13 people and CCTV footage is being examined.
A detective sergeant in the PSNI's major investigation team told district judge Barney McElholm at Londonderry Magistrate's Court that the nature of the investigation was murder.
It is understood the police are investigating whether the death was the result of some kind of domestic dispute.
Local priest Father Michael Canny said the dead man and his family were well-known.
"The community will be waking up this morning to this terrible, tragic and devastating news," he said.
"I think that all of our thoughts and prayers must be with the family and the extended family involved here."