Belfast film-maker George Clarke premiers horror movie The Last Light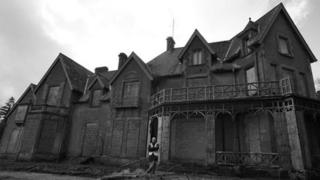 Love them or hate them, horror movies are a film industry staple at this time of year.
As darkness falls on All Hallows' Eve, hoards of people flock to cinemas in search of ghost story that will lift the hairs from the back of their necks.
Many leave disappointed - wishing they had gone trick or treating instead.
But Belfast film-maker George Clarke claims his new movie will provide the spine-tingling shivers that Hallowe'en fanatics are looking for.
"At one screening we had grown men walking out after 30 minutes," he said.
"They all screamed louder than the women. I was quite surprised how the change in pace from my usual films was accepted so well."
The gala screening of his latest venture, The Last Light, takes place at the Strand Cinema in Belfast on 31 October.
It is based on real-life paranormal experiences at the home of Lord and Lady Dixon in Antrim.
"I was out with a local paranormal group at the old house. I used to play there as a kid so it was great to go back," he added.
"What was going on there gave me the idea for this film. I was writing the script in my head."
Shadows
The film follows the story of Rob Walker, a maintenance man who is asked to restore an abandoned mansion after it is vandalised by a group of children.
It was made with a tiny budget of £200, so George says people should not expect any Hollywood-style special effects.
"It's been described as the Shining meets the Grudge. It is all about shadows and sounds. We wanted to toy with peoples' imaginations.
"I have been working with the same team for a long time. We did it with £200, which was enough for some food and a few props."
The modest budget may have presented a challenge on set, but it hasn't stopped the film receiving rave reviews.
Earlier this month, lead actor Robert Render picked up the award for Best Actor at the Freak Show Horror Film Festival in Orlando and critics have described it as "the scariest film since the Blair Witch".
Of course, cinema-goers will have to make up their own minds.
But it is advised to bring a popcorn bucket to hide behind...just in case.