Wealthy couple's Titanic plan sells for £30,000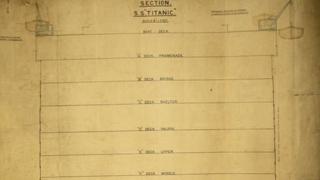 A rare Titanic first class deck plan belonging to a wealthy New York couple who drowned in the tragedy has sold at auction for £30,000.
The deck plans were handed to the 324 first class passengers as they boarded the RMS Titanic at Southampton in 1912 to help them navigate the liner.
Ida and Isidor Straus died side-by-side after Mrs Straus refused a place on a lifeboat to remain with her husband.
The couple drowned at sea along with 1,495 others.
Their maid, Ellen Bird, survived, and kept the couple's deck plan. It is thought to be only one of three in existence and has been in the hands of a private collector since her death in 1949.
Despite the deck plan's age and fragile condition, the delicate document has remained in one piece.
The plan, which folds down to a booklet, is headed "White Star Line, Southampton-Cherbourg-New York Service, First Class Accommodation".
Mr Straus, 63, was a wealthy businessman who owned Macey's department store in New York. He and his family were returning to America on Titanic following a holiday in Europe.
A photograph of Mr Straus was also sold to the same buyer as the deck plan for £17,000.
'Collector's dream'
The plan was sold at the weekend by auctioneers Henry Aldridge and Son, which said the human stories associated with the Titanic disaster made its memorabilia very popular with collectors.
"Isidor Straus was one of the wealthiest people on the ship and original material relating to his and his party's time on board Titanic is practically non-existent," said Andrew Aldridge.
"To have something directly related to Straus which was on the ship is a collector's dream."
The deck plan was auctioned as part of a selection of Titanic and White Star Line memorabilia at the Devizes auction house in Wiltshire.
Other top sellers included the first class D deck toilet keys, which made £43,000 and the SS Birma log archive that documented the final signals that Titanic sent, selling for £32,000.
A Titanic stamp booklet made £33,000 and three unpublished images of Titanic's launch sold for £25,000.