Belfast City Hospital's emergency department shuts its doors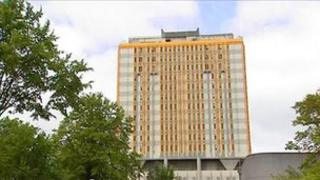 Belfast City Hospital's emergency department has closed its doors to patients from 08:00 GMT on Tuesday.
Patients are being asked to go the Royal Victoria Hospital instead. Emergency cases will be transferred by ambulance.
Belfast Health Trust medical director Dr Tony Stevens said there was no significant prospect of it re-opening in the immediate future.
A shortage of senior staff is being blamed for the closure.
The closure has been described as temporary, but Dr Stevens could give no guarantee that the department would ever open again.
But a consultant working in A&E at the Royal still believes it will reopen.
"As far as I am aware it is a temporary closure and it is because we cannot get enough registered doctors to man the departments which should ensure patients' safety," said Dr John Maxwell.
"I would not be privy if there is some sort of other strategy going on, I am not within the management team but as far as I am aware, it is temporary."
Regardless of the duration, the Royal, the Mater and the Ulster hospitals will have to deal with around 40,000 extra patients.