The Irish town reflecting the new president's values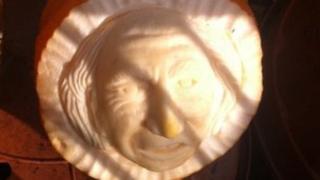 The town of Virginia in County Cavan is such an avowedly rural part of the Irish hinterland that a DVD entitled "Working The Land - A Year In the Life of an Agricultural Contractor" can be a top seller at the Saturday morning market.
This weekend though, the town's residents were taking a break from their normal arable produce and focusing on one vegetable only - pumpkins.
It's the week of the Virginia Pumpkin Festival.
Every tree, every street light, every shop front is festooned with multitudes of orange squashes.
Only the United States rivals Ireland's fascination with Hallowe'en but for some the fact that the festival is taking place this weekend is a mere happy coincidence.
This is not about small pumpkins with scary faces carved out and an illuminatory candle placed within.
This is about competition.
The main event of the weekend is the contest for the heaviest pumpkin and they have come from all over Europe to compete.
Ric Sanders has flown in from Germany, with his pumpkin coming in a van behind him. It had better be a sturdy van because Ric's Virginia entry weighs in at a monster 800lb.
Pumpkin breeding, he explains, is a serious business.
"It's really big in the US and Canada but it's becoming more popular in Europe now too," he tells me.
"It's all in the seed selection.
"Just a few years ago, the world record for a giant pumpkin was just over 800lbs but because of people sharing their knowledge about the genetics, the record is now up to over 1,800lbs."
Amid the market stalls and the smell of cuisine from far and near, Virginians everywhere are talking about their competition.
But it takes only a gentle prompting for them to discuss the other big contest in Ireland this weekend - the presidential election.
County Cavan is the family home of the man who just a week ago would have been forgiven for planning his first Christmas in the palatial surroundings of Aras an Uachtarain, the home of the Irish president.
In a record field of seven, Sean Gallagher had turned a low-key beginning to the six-week campaign into a huge opinion poll lead with just five days to go.
A judge in the Irish version of Dragons' Den, the businessman was seen by his backers as young and dynamic, the perfect antidote to the economic mess Ireland finds itself in.
How he lost to the 70-year-old Labour Party candidate Michael D Higgins will become the stuff of Irish political folklore.
Challenged during a television debate about whether he had gone to collect a donation for a political party he had sought to distance himself from, he stuttered out an explanation which referred to an "envelope".
No truly accurate account of this election will be complete without inclusion of the audience's booing and worse, derisive laughter.
The concept that the disastrous debate lost him the election is given significant traction by those at the festival.
"If someone had called me last weekend and asked me how I was going to vote, I'd have told them Sean Gallagher without any doubt," said Lorraine Sheridan.
"He was always on about how we needed to create jobs. That's what got me behind him - that he would be there with the young ones, banging the drum for job creation."
The idea that her man up to that point was unfairly ambushed is nonsense, she adds.
"It didn't take a lot to get him to start talking about the envelopes. Then the lady in the audience was going on about his tax and it just didn't sound right - the whole thing."
Quite a few Virginians agree.
"I was with him all the way through the campaign. I thought he was young and different from the rest of the candidates," Colm McCaffrey said.
"After Monday, I changed to Michael D.
"I watched the debate and I don't know what he did or didn't do but I was thinking about what would happen if he was elected and something else came out - so I switched horses."
One poll in Ireland on results day on Friday suggested that 28% of voters had also shifted their intentions during the final week.
It is an astonishing figure which has had political scientists scratching their head and trying to think of a parallel anywhere, anytime.
Despite Sean Gallagher topping the poll in his home county, his backers did not seem abundant in Virginia.
Those that stuck with him almost uniformly referred to his youth, his energy and his belief in business and job creation.
Michael D Higgins supporters, meanwhile, spoke of his experience and wisdom, a safe pair of hands in difficult times.
Mentions of the other candidates was about as rare as a piece of street furniture which didn't feature a certain vegetable.
While Virginia bustled and anticipated an appearance by iconic rockers, The Waterboys, Michael D was taking to his own stage at Dublin Castle to make his acceptance speech.
He described a vision of an Ireland leaving behind the worst excesses of individualism to foster again a sense of community and cooperation across the country.
A spirit already seized upon by the residents of Virginia, County Cavan.
Business is booming this weekend with people queued out the door in the cafes and restaurants.
Finally getting a seat, a waitress tells me that the special is chicken curry.
You can guess what the soup is.