Greens reject call for party to split from Irish Greens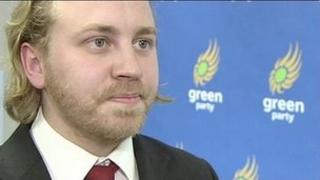 The Green Party in Northern Ireland has rejected a call for it to become a separate entity from the Irish Greens.
The issue was raised at the party's annual conference in Belfast on Saturday by members from Antrim.
The motion was defeated and the Northern Ireland Greens will retain their status as a regional group within an all-island party.
Party leader Steven Agnew said a small number of people supported the motion whilst the majority opposed it.
"The Green Party wants Northern Ireland to move free of green and orange," he said.
"I think we as a party have and within our party today, there'd be people who consider themselves unionist, people who consider themselves nationalist, people who don't lose sleep over the constitutional issue, like myself.
"What we are united behind is economic, social and environmental policies and we stay united on those fronts."