Poundland u-turn over poppy after complaint from Lisburn employee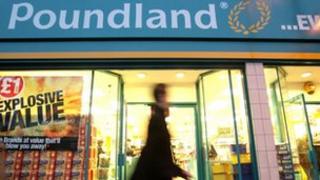 A complaint by a Poundland employee in Lisburn has led to the company changing its policy over the wearing of poppies.
The woman walked out of the store in Bow Street Mall after she was asked to remove the poppy from her uniform as it was against company's dress policy.
Poundland said after listening to customer and staff feedback it had reviewed its UK policy.
The company apologised for any unintended offence caused.
"We have for some years operated a clear and simple dress code that store colleagues are requested to observe," said Jim McCarthy, Poundland's chief executive.
"The policy was designed to prevent issues arising that for whatever reason could upset individuals or communities and to focus our energy on raising money for colleague-nominated charities.
"On 28 October a situation in Northern Ireland was brought to the company's attention where a store colleague was politely asked to remove a poppy by our store manager in order to comply with company policy.
Staff discretion
"The store colleague decided to walk out and stated that she would return on Monday next wearing her poppy."
Mr McCarthy said the company had decided in the case of the poppy appeal to allow store colleagues to use their own discretion in wearing poppies.
"This change in policy is consistent with recent reviews of policy made by other leading high street retailers," he added.
Lagan Valley DUP MLA Paul Givan has welcomed the decision by Poundland to allow members of staff to wear poppies on their uniform.
"I was shocked and angered that my constituent, a member of staff in Poundland, Lisburn, had been treated in this manner by the company," he said.
"My constituent, who came to me for help, wears a poppy annually to commemorate the many servicemen who paid the ultimate sacrifice during various conflicts over the last century but, in particular, her own family members that served in Northern Ireland's security forces.
"Poundland by their absurd political correctness caused deep offence and politicised an emblem that is universally regarded as a symbol of remembrance and they failed to take into account clear guidance by the Equality Commission that the poppy is not regarded as an emblem that is contentious.
"Poundland seriously underestimated the hurt caused to their employee and the wider community."