Man charged after stabbing in south Belfast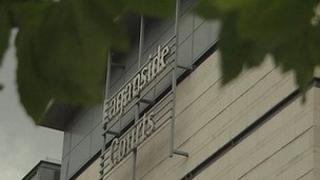 An 18-year-old man has been remanded into custody charged with trying to kill a man who was stabbed in the back in south Belfast.
Dale Brian Branagh, of Claremont Street in Belfast, was charged with attempting to murder 29-year-old Dylan Molloy and having the knife used in the attack.
The incident happened in Fountainville Street on Friday morning.
A detective told Belfast Magistrates' Court he believed he could connect Mr Branagh to the charges.
Detective Constable Michael Porter showed district judge Amanda Henderson a photograph of the kitchen knife allegedly used in the attack.
Mr Porter confirmed to Mr Branagh's solicitor that at the moment, the case against his client is circumstantial, but that as the investigation continues police would be submitting the knife and blood-stained clothing for forensic testing.
He said they would also be holding an identity procedure.
No bail application was lodged with the court on Saturday and Judge Henderson remanded Mr Branagh into custody to appear again on 25 November.