Martin O'Hagan murder accused has charge withdrawn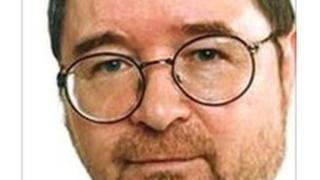 A man accused of murdering journalist Martin O'Hagan has had the charge against him withdrawn.
Neil Hyde, 31, is to be prosecuted for nearly 50 other alleged offences, including some connected to the shooting of the Sunday World reporter.
Mr O'Hagan, 51, was shot dead in Lurgan in September 2001.
Mr Hyde, formerly of Princeton Avenue, Lurgan, was released on bail to an undisclosed location after appearing at Belfast Magistrates' Court.
Mr O'Hagan's killing was claimed by the Red Hand Defenders, a cover name used by both the Loyalist Volunteer Force and Ulster Defence Association.
The journalist had built a reputation for stories which exposed paramilitaries and drug dealers.
He was killed as he walked home with his wife from a pub.
Murder charges against other suspects were withdrawn in July last year.
At the time it was indicated that prosecutions could still progress against them.
Firearms
Confirmation that Hyde will no longer be charged with murder came at a court hearing in Craigavon on Friday, according to Public Prosecution Service and legal representatives.
Meanwhile, he was returned for trial on a total of 48 other charges following separate preliminary enquiry proceedings amid heavy security in Belfast.
These include firearms and assault offences.
Hyde was returned for trial at Belfast Crown Court on a date to be fixed.
Legal sources predicted his arraignment could now take place within weeks.
A Police Service of Northern Ireland spokesman stressed the extent of the alleged offences Hyde still faces.
He said: "The defendant faces a total of around 50 charges, some in connection with LVF activities.
"These include a number in relation to Martin O'Hagan's murder."