Karen Walsh sentenced for Newry pensioner 'crucifix murder'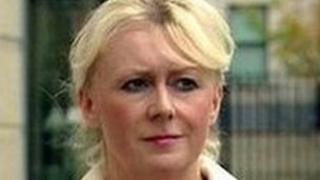 The killer of an 81-year-old Newry pensioner has been told she must serve at least 20 years in prison before being considered for parole.
Sentencing Karen Walsh, a 45-year-old pharmacist from Dublin, Mr Justice Hart said she had inflicted a brutal and sustained assault on a frail and vulnerable pensioner.
Maire Rankin was found in her house in Newry on Christmas Day in 2008.
She had been beaten with a crucifix and sexually assaulted.
Mrs Rankin also suffered 15 broken ribs during the attack which took place in the pensioner's home on Dublin Road.
The judge said: "She inflicted a further degradation upon Mrs Rankin by removing her clothing and then sexually molesting her in order to make it look as if an intruder had broken in and attacked Mrs Rankin after the defendant had left.
"This additional degradation represents a very serious aggravating factor in an already grave case."
Used crucifix in attack
Walsh worked in Dublin, but often stayed at a house she owned next door to Mrs Rankin.
Walsh, who had called around to visit her 81-year-old neighbour, lashed out at her with the crucifix which had been given to Mrs Rankin as a wedding present.
The judge said Walsh did not intend to kill Mrs Rankin but to cause her grievous bodily harm, however, she used the crucifix to attack Mrs Rankin, a devout Catholic, who was using a nebuliser when she was struck on the face.
The judge said Walsh's account of her visit to Mrs Rankin had been 'bizarre' and one which the jury had clearly not accepted.
He said she had offered no explanation and shown no remorse.
During her trial, the prosecution claimed that Walsh killed Mrs Rankin in a drunken rage because the pensioner had chastised her about her drinking and urged her to go home to her two-year-old son.
Walsh, her blonde hair swept back into a ponytail and wearing a dark trouser suit, sat in the dock with her hands clasped as the judge set the minimum term of imprisonment.
She left the court on Friday still protesting her innocence, but the judge said she had shown no remorse and posed a significant risk to the public.
The judge said the court was told at a pre-trial review that the defendant had been examined on her own behalf by a consultant psychiatrist.
He said that report was later disclosed to the court by the defence, but it had not been provided to the prosecution.
The judge said the report stated that Walsh had a "brief psychotic episode in April 2008 and there were references to heavy drinking prior to that".
He said Walsh had denied the offence and the psychiatrist had felt unable to reach a diagnosis with confidence because she found her to be "guarded, suspicious and defensive".