Attwood welcomes new drink-drive laws in Irish Republic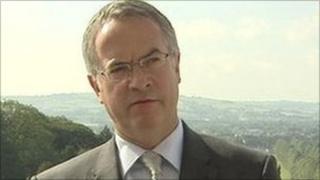 Northern Ireland Environment Minister Alex Attwood has welcomed the introduction of new lower drink-drive limits in the Irish Republic.
The blood alcohol limit will drop from 80mg/100ml to 20mg/100ml for learner drivers, newly qualified drivers and professional drivers.
The limit for all other drivers will go down from 80mg/100ml to 50mg/100ml.
Mr Attwood said drivers in Northern Ireland needed to be aware of the change.
"Drivers from the North will be affected by these changes and should make themselves aware of them," he said.
"They will be penalised if they decide to drink and drive in the South and may even lose their licence when they return home. "
The new laws come into effect on Friday.
Mr Attwood said that when a driver fails a roadside breath test they will be arrested and brought to a Garda station where a further breath, blood or urine sample will be taken.
If the result of this sample exceeds the applicable limit, the driver will be prosecuted.
Penalties for drink-drive offences will range from an on-the-spot fixed penalty of at least €200 and three penalty points to disqualification for between six months and six years.