Victim recalls Lissue Hospital 'beatings'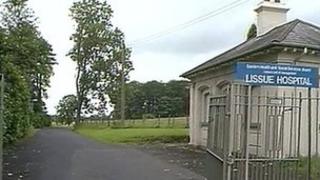 A man who says he was abused at Lissue Children's Hospital in Lisburn has given the BBC a harrowing account of suffering at the hands of staff.
The hospital was the subject of a 2009 report into allegations of abuse in the 1980s and 90s.
"The main memories of it were that the staff were terrible. They were always hitting people", said the man, who wished to remain anonymous.
"Personally, I got beat a lot because I didn't eat any dinner," he added.
"Or if I did something stupid, I got the beatings or thrown against the wall or thrown across a table."
Lissue and another hospital, Forster Green in Belfast, were the subject of a report in 2009.
It was never published but a copy was leaked to the Irish News which has reported extensive details of its contents.
The report was commissioned following allegations that girls aged between eight and 13 were abused in both hospitals.
"There was maybe four or five of us that were treated bad," the victim said.
"Any time, there was a window broken, or say, someone drew along the walls with a felt-tip pen, one of us five would have been the ones dragged out and punished for it."
In a statement, police said that they had carried number of investigations into alleged abuse over a number of years.
"In July this year, police received a copy of reviews carried out by various trusts and boards and an intitial assessment and review was carried out by police," the statement said.
"Police are fully committed to carrying out a full and thorough review of all material and have requested further information to assist in this."