Northern Ireland broadband service criticised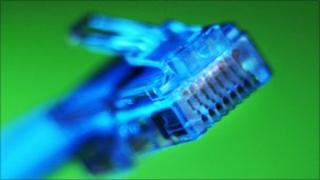 Northern Ireland has some of the lowest broadband speeds in the UK and also has the highest percentage of households running low-speed broadband.
It has also been revealed that Belfast internet users can expect a much faster broadband speed than a consumer in counties Fermanagh or Down.
Mobile phone users in NI suffer from a poorer coverage compared to the rest of the UK. Just 54% of mobile phone users here enjoy 3G coverage.
In the rest of the UK it is 95%.
The University of Ulster is urging broadband and mobile phone users in Northern Ireland to reveal how good their service really is and if they are happy with it.
Ofcom say Northern Ireland has the highest availability of super-fast broadband services (running above 24Mbits/sec) but the same report reveals that a quarter of consumers cannot even get a tenth of that speed.
The average speed in Belfast is 8.9Mbits/sec but it is just 4.3Mbits/sec in Fermanagh.
"The purpose of this survey is to identify the areas that are losing out, by gathering direct feedback and evidence from consumers through an internet-based survey," said Gerard Parr, professor of telecommunications engineering at the university.
"We want to determine the broadband access rates and mobile phone signal coverage situation across the Province.
"We want to capture observations and feedback on the quality of the broadband or mobile service consumers are receiving and the impact this is having on their quality of life, for example: leisure, entertainment, daily work, job creation, accessing new markets, rural support or children's education."