Ex-UFU head Graham Furey admits dumping charge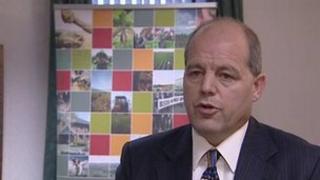 A former president of the Ulster Farmers' Union has pleaded guilty to illegal dumping.
Graham Furey, 54, of Comber Road, Toye, Downpatrick admitted four charges related to waste management breaches.
The offences took place in the County Down area on unknown dates between November 2003 and October 2008.
A co-accused, 52-year-old Elvis Kirk of Crossgar Road in Killyleagh, also admitted four similar charges.
The charges facing Furey related to unlawful deposit of waste, unlawfully keeping controlled waste and keeping waste in a manner likely to cause pollution.
Three charges faced by Furey and two faced by Kirk were "left on the books".
Both men are due in court on 24 November for sentencing.
Mr Furey stood as an Ulster Unionist Party candidate in the 2011 district council elections but failed to win a seat.