Former DUP candidate John Smyth refused bail on explosives charges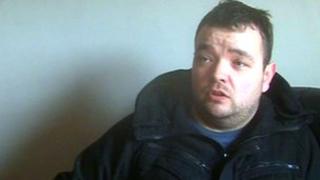 The fingerprint of a former DUP election candidate was allegedly found on the handset of a phone box used to make a hoax bomb warning, the High Court has heard.
John Smyth Junior, 30, of Seacash Walk in Antrim, faces charges connected to the discovery of a pipe bomb outside a Polish family's home in the town.
A loyalist terror group later said it was responsible.
Mr Smyth, who denies any involvement, was refused bail.
He is charged with making explosives with intent to endanger life and making explosives under suspicious circumstances.
The court heard that Mr Smyth maintained he was at his parents home throughout the night of the incident on 12 October.
A judge was told boxes of fireworks, bangers and copper piping, allegedly similar to that used in the pipe bomb, were found during searches of his flat.
However, according to Mr Smyth, the piping was at his home due to the installation of a new heating system and shower.
'Fight back'
The court also heard he claimed the fireworks were bought at a market and and used for his son's birthday.
Opposing his application for bail, a prosecution barrister said DNA analysis was ongoing while a computer seized from the accused has still to be examined.
The barrister said the attack on the Polish family was claimed by the Real UFF, who declared it part of a "fight back" in the area.
The court was told there have been 28 incidents of pipe bombings, hoaxes, threats and shootings in Antrim since January 2008.
The barrister stressed that Mr Smyth had not been charged with anything other than making the explosives found on 12 October.
But she referred to a hoax bomb call earlier this year linked to a public phone box.
A fingerprint found on its handset was Mr Smyths, the barrister alleged.
The court also heard that the accused was himself the victim of a pipe bombing in March when a device exploded on his bedroom pillow.
Another objection to bail was based on fears for Mr Smyth's safety.
Retaliation
The barrister added: "Members of the public are particularly concerned about the nature of this attack (on the Polish family) and there may be a suggestion of retaliation."
Mr Smyth had accounted for the fingerprint by saying he took his children to a play park beside the phone box and used it when his mobile was out of credit, his lawyer said.
The defence solicitor argued there were innocent explanations for all the items found in his flat.
He also contended that Mr Smyth would have been charged with further offences if there was any evidence of association with Real UFF figures.
The solicitor also disclosed that his client has been treated for two attempted suicides and detailed how a pipe bomb was thrown into his own home.
"To suggest this man goes from being a victim of these attacks by an organisation to, in effect, making similar items for that organisation to use in the community, does not stand up to scrutiny," he said.
But refusing bail, Mr Justice Hart held that there was a prima facie case against Mr Smyth.
The judge said that the inferences were currently strengthened by the alleged presence of the accused's fingerprint in the phone box.
Mr Smyth stood unsuccessfully as a DUP candidate in this year's council elections and has since been suspended from the party pending the outcome of the case.