Patient increase at Ulster Hospital when City A&E closes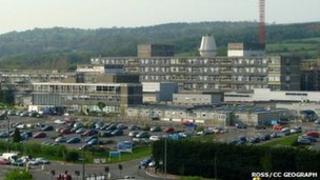 The Ulster Hospital is expecting 10,000 extra people, of which 2,000 will be admitted, when the A&E department at Belfast City Hospital closes.
The City's accident and emergency department will close on a temporary basis on 1 November.
A number of measures are in place to cope with increased patient numbers at the Ulster over the coming months.
The hospital already has the busiest A&E in Belfast with 75,000 patients a year.
There will be more staff in the Ulster's A&E, but elective surgery at the hospital will be restricted for a period.
Other measures include opening two wards and more day procedures where patients are not admitted to hospital.
The south-eastern trust has also asked that only one person is to accompany A&E patients, to ensure the waiting area in the emergency department does not become overcrowded.
'Increased demand'
The director of hospital services Seamus McGoran said November would be a challenging month.
"Not all of the additional capacity will be in place from 1 November," he said.
"However, we do have contingency plans and these will help address the increased demand on services. I would ask the public to bear with us."
The clinical director of emergency care reform Sean McGovern said patients should make use of the GP out-of-hours service, and the minor injuries units at Bangor and Ards hospitals.
"When the system is under pressure, it is even more important that patients do the right thing, and make appropriate use of the services on offer," he said.
The Belfast Health Trust has described the closure as of the City A&E as temporary but health unions say they believe the move is a step towards the permanent withdrawal of the service.