Two accused of 2005 Newry murder of Jonathan Graham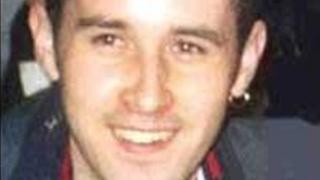 Two men have appeared in court in Newry charged with the murder of Jonathan Graham in the city six years ago.
Mr Graham, 20, was shot as he sat in his car outside his home in Ardcarne Park on 21 April, 2005.
In court were 33-year-old James McEvoy, from Drumalane Park, Newry, and Gerard Haw, 55, from Damolly Road, Newry.
A bail application was refused and the two men were remanded in custody to appear by video link on 23 November.
They are also charged with possession of a shotgun and cartridges.
Both men had been arrested and interviewed six-and-a-half years ago in connection with the murder.
Mr Haw was released without charge but at the time Mr McEvoy was charged with the murder. He spent a year in custody before the prosecution service withdrew the charge.
On Thursday, a detective told the court that new evidence had now come to light.
He said that Mr Graham had been shot dead in the second of four separate but linked shootings in Newry on the night of the murder.
The same shotgun, which was never recovered, is believed to have been used in all four incidents.
The district judge Paul Copeland refused bail on the grounds that the defendants might interfere with witnesses, flee the jurisdiction and the fact that police were looking for a third suspect in connection with the murder.