Bangkok floods: Northern Irish missionary helping relief efforts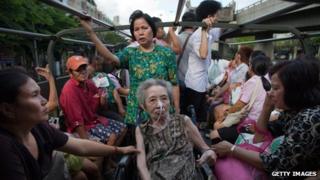 A Northern Irish man is helping with relief efforts in Thailand after the worst flooding in decades.
Johnny McClean from Carrickfergus, is a missionary, who has lived in Bangkok for 16 years and is helping to distribute meals.
More than 360 people have died as a result of the flooding.
Thai authorities have declared a five-day holiday, in Bangkok and in 20 provinces affected by the flooding to allow residents to relocate.
Mr McClean said: "I'm parked on reasonably high ground and the water is about seven or eight inches deep and it's flowing quite strongly.
"People are using boats and we're all using life jackets because we don't know when we'll be stepping into deeper water.
"In some places the water is up to two or three metres deep and there have been reports of crocodiles in the north and people have been catching them."
The missionary said some people were reluctant to leave their homes, despite the flooding because of a spate of robberies.
Help
"Some of them have been there for weeks now and supplies are running low, supplies in the shops are running low so we have a kitchen where we have been producing food," he added.
"We're providing five or six hundred meals and we are going into different areas distributing it.
"Social groups throughout Thailand are doing a similar job."
Around seven million people live in Bangkok.
"If you include greater Bangkok, it's nine million people, so two and a half million people are already affected," he said.
"The prime minister was crying on television earlier today - that's the stage we've got to where the prime minister is actually in tears because she said 'we're trying our best'.
"The flood relief coordination centre is now water logged at Don Muang, the old airport.
"The governor of Bangkok has declared three more areas disaster areas and has asked for the population to leave."
Mr McClean said Thailand was luckier than some other countries affected by flooding because it has a very strong voluntary sector.
"Every area has voluntary agencies which are going in and taking food," he said.
"There has been a lot of people just volunteering, foreigners and Thai people, who are working in soup kitchens, or working at sand bagging.
"On Wednesday I was sand bagging with a whole group of people who were from a cycling club. They cycled over and were all filling sand bags.
Exodus
"There's a feeling it's like a war time feeling that we've all got to help each other whether we're rich or poor to survive."
The city's bus and train stations and many roads are jammed by crowds of people attempting to flee.
Many residents were reportedly heading for southern and eastern coastal resorts that have escaped the flooding.
Flights out of the international airport, Suvarnabhumi, were operating as normal but were said to be packed.
At Bangkok's domestic airport, Don Muang, people living in an evacuation shelter are now being moved again. The airport itself is closed because the runway is flooded.
The government's flood relief operation centre, which is based on the second floor of the airport, insists it will not relocate.
There have also been reports that some shops were rationing stocks of staples including rice and eggs amid stockpiling by anxious residents.
Supplies of bottled water are said to be running low in many areas.
The crisis is an early test for Prime Minister Yingluck Shinawatra, who took office in August and has previously been criticised for failing to take the flood threat seriously enough.
Over the weekend the influx of run-off water from Thailand's inundated central plains is expected to combine with seasonal high tides to flood more parts of the capital.
Britain's Foreign Office on Wednesday warned against all but essential travel to Bangkok.
Ms Shinawatra has warned that flood waters could linger in the capital for between two weeks and a month.
The flooding has been triggered by unusually heavy seasonal rains across the country since July. About one third of all provinces remain affected by flooding.