Almost half of MLAs employ family members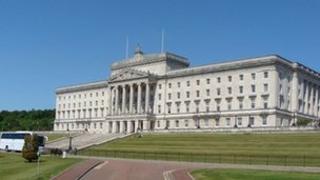 Around 40 per cent of MLAs - including four ministers - continue to employ family members, according to the assembly's latest register of interests.
Assembly rules do not prohibit the practice.
Half of the DUP's 38 MLAs currently employ a family member.
Party leader and First Minister Peter Robinson, as of July, employs his daughter to manage his constituency office.
Jonathan Bell, the MLA for Strangford employs Mr Robinson's son and daughter-in-law in his constituency office.
Mr Bell also employs his own wife as a part-time secretary and researcher, while the social development minister Nelson McCausland employs his nephew.
Other DUP MLAs who employ their wives include Trevor Clark, Robin Newton, Paul Frew, Ian McCrea, David McIlveen and Jimmy Spratt.
Mr Newton also employs his son as a researcher, as do newly elected MLA for East Belfast, Sammy Douglas; Paul Girvan, the member for South Antrim, and Gordon Dunne, recently elected in North Down.
George Robinson employs his son as an office manager. Paula Bradley employs her cousin to work part-time in her office while others employing relatives include Speaker William Hay whose brother-in-law manages his office.
'Unprofessional'
Although assembly rules allow it Sinn Fein has a policy of not allowing MLAs to employ their relatives as it is "unprofessional," according to MLA Pat Doherty.
Sinn Fein's Fra McCann, MLA for West Belfast, is the only MLA in the party who declared an interest in this area. Under the rules, he has to declare that he employs the niece of party colleagues Paul and Alex Maskey.
Three out of 16 Ulster Unionists have hired family members. Roy Beggs MLA for East Antrim employs his wife part-time, as does Leslie Cree.
Joanne Dobson, newly elected MLA for Upper Bann, employs her sister one day a week as a clerical officer.
Michael McGimpsey, South Belfast MLA, has declared that he rents an office from a company in which his brother is the majority shareholder.
Furniture
Four out of 14 SDLP MLAs employ family members. The Environment minister Alex Attwood employs his brother as a constituency assistant, while John Dallat, East Londonderry, employs his wife as his office administrator.
Foyle's Pat Ramsey employs his wife as a driver while Upper Bann's Dolores Kelly has hired her daughter to work part-time.
Three out of eight Alliance MLAs have hired relatives. Kieran McCarthy's son works part-time in his office, while Employment and Learning Minister Stephen Farry's wife works as a senior researcher.
Anna Lo, MLA for South Belfast, declared that her husband occasionally supplies her with office stationery and other equipment or furniture.
The TUV MLA Jim Allister employs his daughter.