Oil stolen from tank at oxygen treatment centre in Magheramorne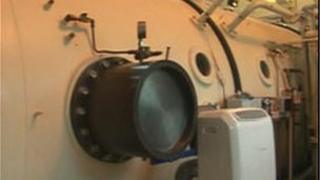 Hundreds of pounds worth of fuel have been stolen from an oil tank at an oxygen treatment centre near Larne, County Antrim.
It happened at the Oxygen Therapy Centre, a charity based at Magheramorne at the weekend.
Patients are treated in a specialised pressure chamber where they can breathe Hyperbaric Oxygen (HBO).
The centre was unable to take patients until heat was restored to the building on Wednesday.
Anne Murray, vice-chairperson of the centre, said the thieves had drilled three two inch holes into the tank, broken the lock and removed around 600 litres of oil.
"We work with disabled people, a lot of people with Multiple Sclerosis (MS), Parkinson's Disease, stroke patients, children with cerebral palsy, sports injuries, broken bones, there are very few things that this oxygen won't help," she said.
"I would liken it to sitting in an aeroplane.
"The chamber is pressurised and the client breathes 100% pure oxygen which they keep 26% of that in their system and that goes straight to the points that need healed. It dissolves into the blood plasma."
She said the centre was overwhelmed by the support they had received from the local community.
"It is amazing how many good people there are out there," she said.
"A young man donated a tank. Another man came out and gave us advice about whether it would have been possible to repair it or not.
"There was some oil left in the bottom of the old tank so we were able to take that from the old tank and put it into the new one."
The centre has been in the Larne area since 1988.
HBO is not a cure but can be effective in helping to heal wounds and avoid deterioration in illnesses such as Multiple Sclerosis.