Man arrested over murder of RUC inspector Bill Elliott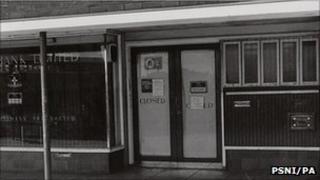 A man has been arrested in connection with the murder of a police inspector in Newtownabbey in 1974.
Insp Bill Elliott was shot dead while investigating a bank robbery in Rathcoole.
Earlier this week, the PSNI's Serious Crime Branch reopened the case after a review by the Historical Enquiries Team (HET) found potential new leads.
A 57-year-old man was arrested in north Belfast on Wednesday and taken to Antrim police station for questioning.
Insp Elliott, 48, was driving on his own when he heard news that a robbery was under way at the Ulster Bank in the Rathcoole estate.
The RUC officer raced to the scene and died after a shoot-out with members of the Official IRA.
Detectives said they were armed with two submachine guns and a pistol.
Insp Elliott was posthumously awarded the Queen's Police Medal.