Orange Order suspends former DUP election candidate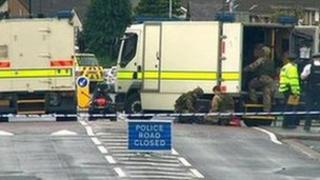 A former DUP election candidate has been suspended from his position in the Orange Order while he is charged with a pipe bomb attack.
John Smyth Jr is accused of an attack on the home of a Polish couple in the Steeple estate in October.
The 30-year-old had been a worshipful master of a lodge in the Antrim area.
An Orange Order spokesman confirmed that Mr Smyth had been suspended "pending the outcome of the legal action".
He has already been suspended from the DUP.
The Antrim man was refused bail when he appeared in court charged with the attack.
He is accused of making explosives with intent to endanger life and making explosives under suspicious circumstances.
The charges are linked to a pipe bomb found on a window sill of house in Seacash Drive on 12 October.
Mr Smyth ran unsuccessfully as a DUP candidate for Antrim in the May council elections.