Irish presidential candidates embark on final day of canvassing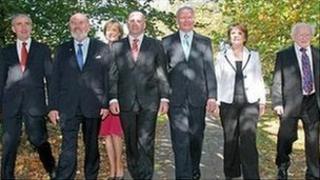 The seven candidates in the Irish presidential election are taking part in a final day of canvassing ahead of polling on Thursday.
Independent candidate Sean Gallagher has accused Sinn Fein of a dirty tricks campaign over allegations he collected a 5,000 euros donation for Fianna Fail in June 2008.
Businessman Hugh Morgan said he handed over a cheque.
The claim was initially raised by the Sinn Fein candidate Martin McGuinness.
It is unclear how the allegations will affect voting in the polls, but Mr Gallagher's main rival for the presidency, Labour's Michael D Higgins said Mr Gallagher had questions to answer.
Mr McGuinness made the claim during the final televised presidential debate on RTE's Frontline programme on Monday evening.
Mr Gallagher initially said he had no recollection of receiving a cheque for 5,000 euros from Mr Morgan in Dundalk, County Louth, two years ago.
However, he later conceded an envelope may have been handed over.
He said it was a legitimate fundraiser for a legitimate political party he was involved with at the time.
On Tuesday afternoon, Mr Morgan said he wanted to "set the record straight" over his attendance at the Fianna Fail fundraiser on 1 July 2008.
Donation
"Sean Gallagher, who I had never met previous to this, contacted me by phone," he said.
"He first phoned me on 6 June 2008 and invited me to attend the above fundraiser. In the course of the call he requested a donation of 5,000 euros for Fianna Fail.
"In return for the 5,000 euros donation I was promised a private audience with the taoiseach and I would get a photograph taken with him."
He added: "Brian Cowen gave a speech on the economy and predicted a soft landing. At the end of the night Sean Gallagher introduced me to Brian Cowen and facilitated a photograph to be taken of myself and him.
"Approximately one week later Sean Gallagher called back to my business and gave me the photograph."
In response, Mr Gallagher issued a statement saying: "The content of Mr Morgan's statement this evening is completely at odds with what he allegedly told Martin McGuinness two hours before the Frontline debate.
"Sinn Fein and Mr Morgan have had so many versions of this fabricated story."
Fianna Fail said they had received the donation the day before the dinner with Mr Cowen took place.
Mr McGuinness said he rejected Mr Gallagher's claim of a smear campaign by Sinn Fein.
A broadcast moratorium for all the candidates comes into effect at 14:00 BST on Wednesday.
Polling stations open at 07:00 BST on Thursday.